April 20th-23rd 2012 :: 10 Year Anniversary! :: Theme: Tiny World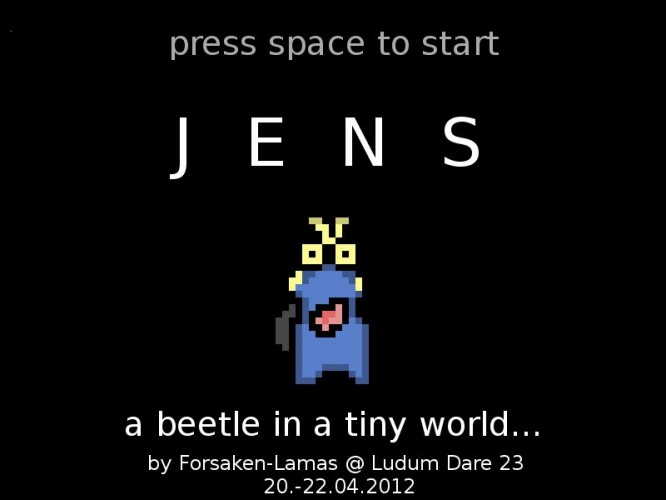 JENS - a cute beetle in a tiny world...
by
rubelli
-
Jam Entry
Hello everybody!

Our little project is named
JENS - A Cute Beetle in a Tiny World.

This is our (Forsaken Lamas) submission for Ludum Dare #23 Jam. It was our first parcipitation and we had a lot of fun while making this game.

=== SHORT SUMMARY OF THE STORY ===
You are JENS, a cute beetle living in a tiny world.
But someday a storm occurs and you're house gets destroyed.
Now your task is to repair the house, so you can live in peace again.

=== CONTROLS ===
movement: arrow-keys
interact: space
pause: esc
quit: q

=== HOW TO RUN THE GAME ===
We provide a platform-independant jar-file.

To run the game, extract all files into the directory of your choice and run "jens.jar".
If this doesn't work, try to open it via "java -jar jens.jar" in the console.

It *should* be compatible with Linux, Windows and Mac - we didn't test it under Mac, though. Oh, and there's no loading screen, so please be a little patient with the game :)

Have fun with our first tiny project!
Forsaken-Lamas (http://www.forsaken-lamas.de)

Downloads and Links
Ratings
Comments
You must sign in to comment.